Tag: Choptank River
by admin on Mar.02, 2016, under Locations, Rants, Raves & Ramblings
I've posted other articles on this blog about Cambridge, Maryland, so this is nothing new. But every time I visit my spot on the Choptank River I come away with a few more worthwhile images of ducks. They're fun to watch, and lovely to look at. This year the birds have been a bit scarce wherever I've gone for photos, and Cambridge was no exception. Must be the warmish winter we had, which didn't push as many ducks southward as usual. But that's the nature of nature – it can be pretty unpredictable.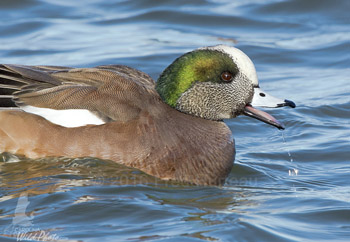 I can count on finding American Wigeons at this spot. The drakes' showy green head patches make them easy to identify. Sometimes they're an olive green… usually with a golden iridescence like the drake on the left. Sometimes they're a rich, brilliant emerald green, like the drake in the photo below of a pair of wigeons. Note the white band over top of the head and extending down the forehead to the bill. This white marking has given the American Wigeon the nickname "Baldpate". (continue reading…)
Comments Off

on The Birds Up North – Part 3 – Cambridge, MD
:American Wigeon, Baldpate, Cambridge, Canvasback, Choptank River, Scaup
more...