Tag: Snow Goose
by admin on Feb.16, 2016, under Locations, Rants, Raves & Ramblings
Edwin B. Forsythe National Wildlife Refuge is a short drive north of Absecon, New Jersey, and not far from Atlantic City. In fact, Atlantic City is visible from the main wildlife drive of the refuge. I haven't had much luck finding subjects at this refuge on previous visits, but this trip was different. Along with the usual trickle of various ducks and Canada Geese, there were around 2000 Snow Geese on this visit.
They were spread out sparsely across the tidal marsh on the north side of the wildlife drive, feeding in the black mud of the marsh. But they were mostly too far off for reasonable photos. Luckily, they were also taking turns flying across the wildlife drive in groups of two to ten to land inside the impoundment. There they would bath and preen, cleaning their muddy heads of the black marsh mud accumulated while feeding. Then they would fly back to feed again.
(continue reading…)
Comments Off

on The Birds Up North – Part 2 – E.B. Forsythe NWR, NJ
:Blue Goose, dark phase, Forsythe NWR, Snow Geese, Snow Goose
more...
by admin on Jan.22, 2015, under Locations, Rants, Raves & Ramblings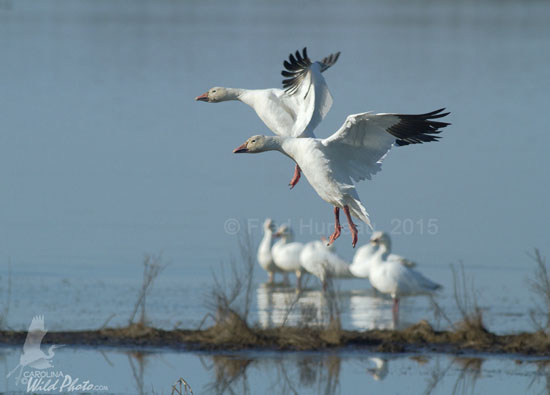 I don't often have the opportunity to photograph Snow Geese. The past few years they've been rather elusive – even harder to find than Tundra Swans, another of my favorite subjects. But luckily I found a group of Snow Geese at an accessible site on Pea Island National Wildlife Refuge on the Outer Banks just a couple of days after my previous posting from the Choptank River in Cambridge, MD. Even more remarkable, the "Snows" kept flying in for about three hours while I was there shooting, giving me ample time to get many great flight shots – an opportunity I don't often get.
(continue reading…)
Comments Off

on Snow Geese at Pea Island NWR
:Outer Banks, Pea Island, Snow Geese, Snow Goose
more...