by admin on Mar.31, 2019, under Locations
My previous post chronicled Day Two of my 9-day photo expedition to Florida, the bird rookery at St. Augustine Alligator Farm. Today, Day Three, we headed to Big Talbot and Little Talbot State Park areas just south of Amelia Island, outside Jacksonville.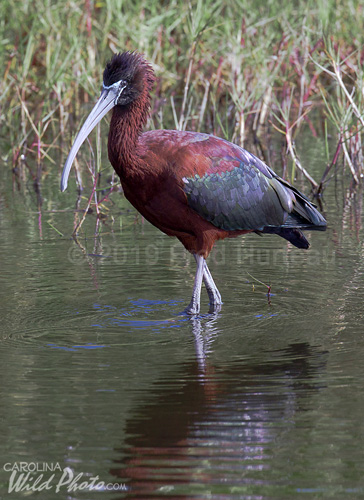 The first stop was Spoonbill Pond at Big Talbot, as it is literally the first thing you come to when you cross the bridge from the southern tip of Amelia Island to reach the park. It was early morning, not long after sunrise, and the pond was a disappointment. There were half a dozen Great Egrets mixed with a few Snowies, an assortment of small ducks and Coots, and a group of sandpipers of some sort. The ducks and pipers were too far away to identify, even with binoculars, and all were much to far off to bother photographing. Besides, we were facing East into the morning sun anyway, so we pressed on. (That was the good news. Since the road by the pond was the only route through the island, we passed Spoonbill Pond several more times on the trip and there was nothing there at all the rest of the time…. nothing.)

We drove south to the entrance to Little Talbot and spoke with the ranger at the ticket booth. She was friendly and helpful, but the information was not encouraging at all. We continued on exploring around the area, but gave up before noon and quit for the day. A day wasted with nothing to show for it. We didn't even get the cameras out. Scratch Big Talbot and Little Talbot off the list. So the next morning we headed for Titusville and Merritt Island NWR, albeit with dimming hopes of a fruitful trip.

We reached Titusville at 1:00 pm on Day Four and grabbed some lunch before driving on to Merritt Island NWR to check it out. It's only about 5 miles to the refuge from town, so going back and forth to our motel, or for lunch, was really easy during our stay. We first stopped by the refuge visitor center to get information. Though all my researach before the trip indicated Bio Lab Road was the place to be, we decided to check out Black Point Wildlife Drive first, since it was the easiest, quickest spot to find until we got better oriented. It turned out to be the best choice. (Find more details, images and advice about Merritt Island NWR, Black Point Wildlife Drive and Bio Lab Road in my "photography locations" article at CarolinaWildPhoto.com.)

The very first birds we saw were some Glossy Ibis, a very pleasant surprise, since I don't recall any mention of them in any of the research I'd done in prep for the trip. I'd only ever seen them once before, at Bodie Island Lighthouse on the Outer Banks of North Carolina some years ago. They're difficult to photograph well as they move continually, seldom pausing, and their irridescent feathers require sunlight at the right angle for good color… or any color at all it seems. But I had plenty of opportunities here. Though I later threw out 75% of the shots, I got more than enough good images to make it very worthwhile.

Among the species we saw and photographed that afternoon along Black Point Wildlife Drive were adult and juvenile Little Blue Herons, Tri-colored Herons, Glossy Ibis, White Ibis, White Pelicans, Black-necked Stilts, Coots, Roseate Spoonbills, Blue-winged Teal, Northern Shovelers, Common Moorhen, Anhinga, Great Egret, Snowy Egrets, Great Blue Heron, one pair of Black Ducks and even one Sora (quite the surprise). There were also random small waders/shorebirds, Cormorants, Boat-tailed Grackles and such that we didn't bother with. And of course, an occasional alligator. We stayed and took photos until near closing time. Then we headed for our motel to check in and get ready for an early start the next morning.
The next morning, Day Five, we were on Black Point Wildlife Drive at sunrise waiting for enough light for photos. We spent the morning making loops through the one-way drive and having good luck, much like the previous afternoon. I got my best Spoonbill photos of the trip here in both morning and late day light, in a setting that was much better than my Spoonbill photos at St. Augustine Alligator Farm. I even had up to five Spoonfills feeding at one time in the same shots. Most were not quite as close as I would have preferred, but acceptable with a 500mm and 1.4TC on a 1.3 crop factor 1D MarkIV body. At least one Spoonbill, though, was so close I had to switch to the 100-400mm zoom on my other 1D MarkIV, shooting at about 250mm.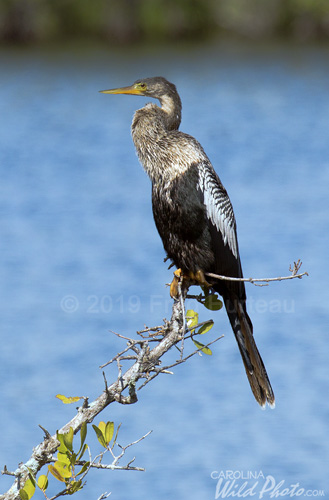 Near noon we decided to take a break and scout out Bio Lab Road during the mid-day light and see what was there before we headed to town for lunch. Although there were still birds on the wildlife drive, there were a dismal few along Bio Lab Road. Maybe this wasn't a fair time to check, since everyone knows the birds are supposed to be more plentiful and active in the morning and late afternoon. But given that the wildlife drive was still plenty busy, I figured there would be something along Bio Lab Road. Yet, it was deserted. Well, at least I didn't see anything. It would have been easier to see if 90% of Bio Lab Road wasn't hidden behind tall bushes. Maybe that's it…. maybe they were there  and I just couldn't see them. So much for Bio Lab Road. Time for lunch.
After lunch we returned to Black Point Wildlife Drive, as that was where all the action was, and stayed until after 5:00. But the gas tank was running low, so we headed back to the motel with a stop for fuel. With thousands of photos from Merritt Island NWR to sort through when we got home, we now prepared to leave the next morning for the Fort Myers area. Ding Darling NWR at Sanibel would be our next stop, which I will cover in my next posting.
:Anhinga, Big Talbot, Bio Lab Road, Black Point Wildlife Drive, Black-necked Stilt, Blue-winged Teal, Common Moorhen, Coot, Glossy Ibis, Great Blue Heron, Great Egret, Little Blue Heron, Little Talbot, Merrit Island NWR, Northern Shoveler, Roseate Spoonbill, Snowy Egret, Sora, Tri-colored Heron, White Ibis, White Pelican