by admin on Mar.23, 2019, under Locations, Rants, Raves & Ramblings
If you read my previous post, "The Florida Bird Haven Myth", you already know how disappointed I was with the lack of quantity and diversity of birds on my 9-day adventure across Florida. The full day spent at the bird rookery at St. Augustine's Alligator Farm hardly lived up to my expectations, based on the reports and stories I read in preparation for the trip.
Don't get me wrong – the birds they promised to be there in March were actually there – Woodstorks, Great Egrets and Spoonbills. But there was little else, and most of what was there was generally masked by limbs and branches, making getting good photos a challenge. That was something I expected, although, I thought surely there would be more and better opportunities, despite the jungle of twigs and leaves, for me to move along the boardwalk to pick and choose my subjects. Turns out you can set your tripod in one spot at the end of the boardwalk and turn 360 degrees to photograph everything there is to see in the rookery area. I had expected more trees and a considerably larger area to work with.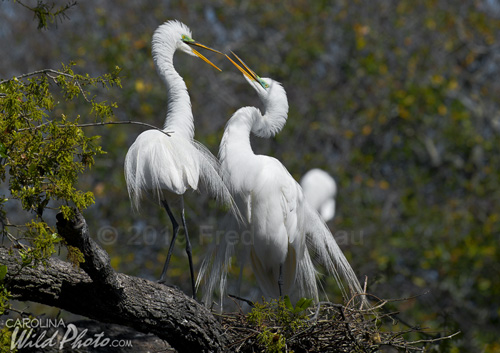 The place is a tiny zoo, and the bird rookery is simply an incidental benefit because the birds like the fact that all the alligators lying around under the trees keep egg predators (like racoons and such) away from the nests. Personally I have no interest in, or fascination with, alligators. I find it hard to believe that Florida needs a "farm" to raise alligators. Yet, 95% of the visitors come there just to gawk at the alligators (no surprise really). You're the oddball standing around looking at the birds. Though the crowd always got larger as it neared times for the staff to "feed the alligators" and put on the sideshow just 30 feet from my corner spot on the boardwalk, I was never really crowded or bothered much by them. It had no effect on the birds activities either. The only hassle was the alligator pellet dispenser near me, where the kids would come and waste quarters on a palm full of pellets to throw to the alligators. Once the show was over, the crowds thinned and left me alone to my work until time for the next Show and Tell.
The fact that it cost almost $50 (even with the senior discount) for me and my wife to get in to take photos made it no bargain. I will never pay to do it again. You might have heard there is a special photographers pass you can get to gain early admission and extended hours without the other visitors. It's actually an Annual Pass costing over $100, and the special extended hours are limited to 4 months during the rookery season. The rest of the year it's just an annual pass. If you do the math, it's a good deal for local photographers, but for the rest of us who have to drive hundreds of miles to get there, not so much. If you spent everyday for a week coming there to photograph while in Florida, you'd save money on admission. But honestly, one day was all I needed to photograph everything there was to shoot 10 times over while standing in one spot. I can't imagine spending 4 or 5 days there.
Well, enough about the alligator farm. Time to talk about the birds. I went to Florida to photograph birds we don't get here in North Carolina, like the Woodstorks and Roseate Spoonbills. And though we have plenty of Great Egrets here, they are not here in breeding season with those wispy white plumes they use to show off for mating displays. As for the spoonbills, the alligator farm was not such a great photo setting for spoonbills. Not one pair was nesting where I could get nesting photos. They did like the pool for bathing though, offering some fair shots, but it was shooting from a high angle and hardly ideal. I actually got far better photos of spoonbills at Merrit Island NWR. Many of the non-breeding spoonbills were roosting close to the boardwalk at the alligator farm so you could get a good sense of their size – not as large as I had thought they would be. At least one spoonbill took up a roost so low in a tree over the boardwalk that I could have reached out and touched it. They seemed to have no fear at all of the people going by.
Even Great Egrets repeatedly flew within 5 feet of me bringing twigs, as they zipped to and from their mates on the nest, seemingly unconcerned with the close proximity of people. The egrets were busy building nests and courting, as were the Woodstorks. Both species flew about breaking twigs from the bushes and trees, and carrying them back to the nests. Though I used a 500mm f/4 with a 1.4x TC on a 1.3 crop factor Canon 1D Mark IV body (about 910mm effective reach), it was not too much lens most of the time. I did employ another 1D Mark IV with a Canon 100-400mm v.II zoom for the closer birds and most flight shots. Those two lenses gave me all the reach I needed.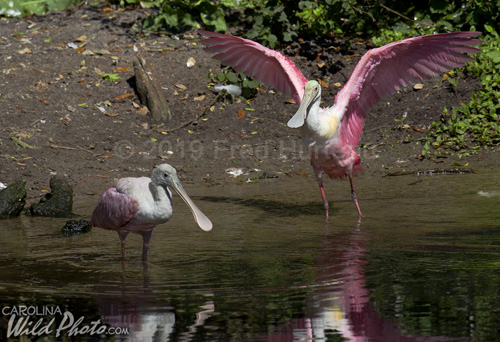 While the afternoon temps stayed between 70 and 85 degrees the whole time I was in Florida, with sunshine every day and no rain at all, the hours of admission at St. Augustine meant the light was harsh. A thin high overcast would have been helpful to soften the lighting, but no luck there. White egrets and white Woodstorks with dark heads among dark trees made exposures hard to deal with. You simply have to go for the proper white exposure and deal with the dark tones later in Photoshop, Lightroom, etc. The trees made for very cluttered backgrounds, and nearly impossible to blur with being so close to the birds. And getting the birds, Woodstorks in particular, to turn their heads for a glint in the eyes was hit or miss. The Woodstork's black iris surrounded by black skin provided a lot of "dead eye" shots. Oh well.
Despite the challenges, I managed a few decent photos. At the end of the day I came away with much of what I came for, and lots of work in post to make lemonade out of the lemons. (See more photos and info in my "photography location" article about the St. Augustine Alligator Farm Bird Rookery at CarolinaWildPhoto.com.
:Great Egret, Roseate Spoonbill, St. Augustine Alligator Farm, Woodstork