by admin on Oct.25, 2018, under Locations
I seem to be logging a lot of wild horse time this Autumn. Just two weeks after the wife and I spent two days with the wild horses at Beaufort and Shackleford, I had the opportunity to join three other photographers for two more days with Seavisions Charters. For the other photographers… two from New York and one from Massachusetts, it was a first time visit with the wild horses.
The weather was cooler and much more comfortable than the previous trip, and the horses were getting back to a more normal routine after the disruption of Hurricane Florence. That made locating them easier, and we had more than the usual number of opportunities for good photos. In fact, we had up to 24 horses in a loose herd this trip, whereas in all my many previous visits the most I'd seen an a group was 17.
There seemed to be more scuffles than usual between the stallions while we were with the horses. Despite these extra photo opportunities, I kept finding myself with another horse in the way of my shots whenever a disagreement broke out. Still, I managed some decent images of their spirited encounters.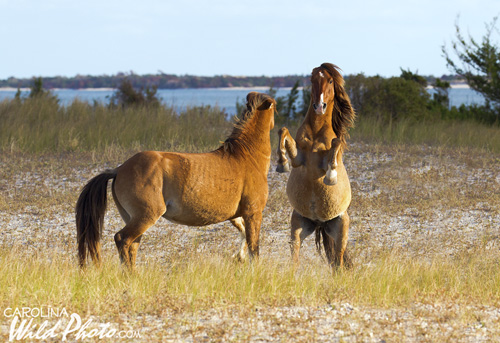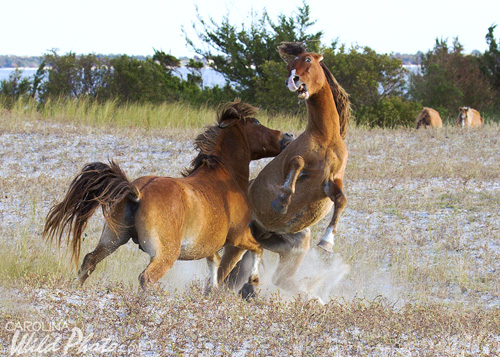 One of my favorite sights is watching the stallions posture, and strut, and prance as they try to bluff each other, asserting their places in the order of dominance among the groups. When a scuffle does break out, with manes, dust and sand flying, they display their true spirit and grit.
But soon enough, they settle down to their gentle, quiet, day to day task of trying to survive on the meager pickings they have for food on these islands. You have to admire their tenacity under the harsh circumstances they endure every day.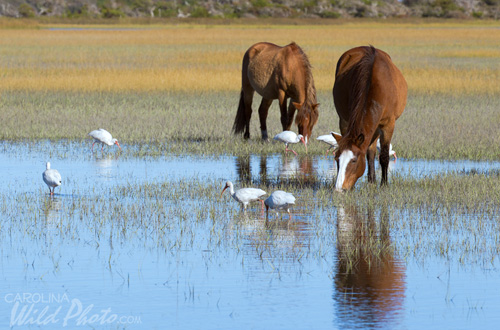 At the end of a day eating tough salt-laden marsh grass, the horses suddenly break into a run and head for the watering hole, such as it is. A muddy slush of semi-fresh water that seeps up from below the sands and marsh mud of this small island is what passes for fresh water for them. Yeah, it's a tough life, but these indomitable wild horses make do and survive with a grace befitting such a noble creature.
<<<<<<<<<<<<<<<<<<< ♦ >>>>>>>>>>>>>>>>>>>
---
:Beaufort, Rachel Carson Reserve, Shackleford Banks, stallions, wild horses