by admin on Feb.05, 2016, under Locations, Rants, Raves & Ramblings
With the holiday season in the rear view mirror, and this year's frigid Winter fits of January melted away, it was time to squeeze in a trip up north to try my luck finding ducks. A promising forecast of four days in a row of clear sunny weather became only three days as soon as I arrived at the first stop, Cambridge, MD. The second stop was Barnegat Light in NJ, followed by Forsythe NWR an hour or so south of Barnegat. In this first installment I'll begin with the birds along the famous (among bird photographers) jetty at Barnegat.
You can almost always find the cute little busybodies called Purple Sandpipers nibbling their way along the huge rocks of the jetty at Barnegat. They are quite tolerant of people and you can expect to find them wandering right past you within a few feet with little regard for you or your camera. When they stop and pose in some great light, it's time to start snapping shots. I was so busy watching for the ducks that I almost didn't see this fellow hanging out right in front of me.
On this trip the Harlequin ducks, Long-tailed Ducks and Black Scoters were being uncooperative. They were hanging out at the far end of the jetty where the waves and salt spray keeps the jetty's huge boulders damp and dangerously slippery. This trip taught me a lesson, and I now have a pair of crampons on order. They should give me much improved traction while traversing the boulders the next time I go.
Of the half dozen Black Scoters I saw there, only one was in a location where I could photograph it. Luckily it bobbed about on the waves feeding near me long enough to get a few shots. This little duck is totally black, but has a brilliant yellow knob at the base of its upper mandible (bill), making it easy to identify. This is the first decent photo I've gotten of a Black Scoter.
Harlequins and Long-tailed Ducks have been featured in a previous posting (A Marathon 48 Hours of Duck Heaven – Part Three), but I wanted to get some photos of them on the rocks instead of just bobbing about on the waves like before. Thankfully I managed it on this trip.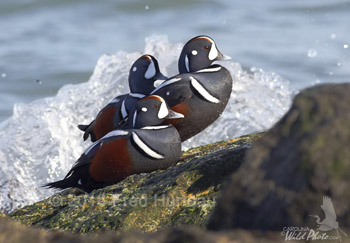 The left photo shows three drake Harlequins sunning themselves after preening. The drakes' striking black and white markings and deep rust red sides stand out against their otherwise plain gray bodies. There is no mistaking these flashy fellows when you see them.
There were also a couple of hen Harlequins soaking up the sun just out of view of this photo.
As with most ducks, the hens look nothing like the drakes of their species. They have simple brown coloration, with a white dot on the side of the head and white patches at the base of the bill. This was the first time I'd seen the females out of the water, and they were kind enough to pose for me for some time. They were much more tolerant of my close presence than were the drakes.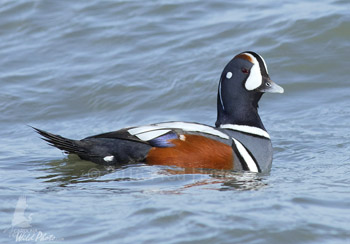 Photographing these ducks, like the drake at left, is quite challenging. In this location, the birds are in the Atlantic ocean, with waves from one to two feet on this particular day. They are bobbing up and down erratically, which makes following and focusing on them a frustrating challenge. There is a lot of hit and miss involved, but such is the challenge of wildlife photography.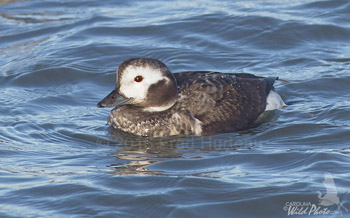 An even smaller target is the Long-tailed Duck. These cute little feathered corks bobbing on the waves are even harder to follow in the viewfinder.
At the right is a Long-tailed Duck, and below is also a Long-tailed Duck. The tricky thing is that both are males. The one with mostly dark brown is of breeding age, while the one that's mostly white is a younger non-breeding male.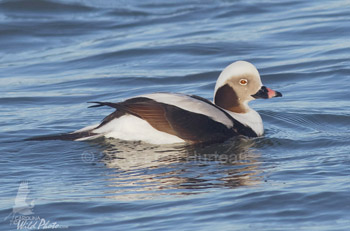 The females look different from the males, and with a further differentiation between ages just as with the males, so learning to identify which is which turns out to be something of an challenge. It's one of those things that makes wildlife photography so interesting. I'm always discovering something new about the birds, even as I discover new birds to photograph.
Check in later for Parts 2 and 3 of this series, which will cover the ducks at Cambridge, MD, and Snow Geese at Forsythe NWR.