by admin on Apr.10, 2015, under Rants, Raves & Ramblings
I had seen Bluebirds occasionally visiting our bird bath for the past few years, but otherwise I hardly ever saw them. Last Spring I finally broke down and bought a Bluebird house and put it up in the yard. Almost immediately I saw a pair of Bluebirds checking it out, and I believe they raised a brood. However, I never actually saw any little ones and was afraid to investigate for fear of scaring them away. This Spring I fashioned a snake guard for the Bluebird house post, and then made a little bowl feeder for dried meal worms which I placed some 12 feet in front of the birdhouse.
To make the feeder, I drove an old section of TV antenna pipe into the ground and fashioned a feeder from a plastic cottage cheese bowl. I cut four 1/2-inch holes in the bottom to drain water. Then I bent some coat hanger wire through the holes and bent it so it would fit down into the pipe. It's springy and holds the nearly weightless plastic bowl firmly. Then I made a "bowl" shape of plastic window screen and stapled it into the plastic bowl so it would hold the meal worms away from the bottom of the plastic bowl and out of any moisture. The screen allows any rain to drain right out and down through the holes in the bottom of the bowl. A little spritz of green camo spray paint to dull the white bowl and TV pipe so it was less noticeable in the yard, and it was done. It's a temporary thing, put up in haste, and isn't pretty, but it works perfectly for the time being.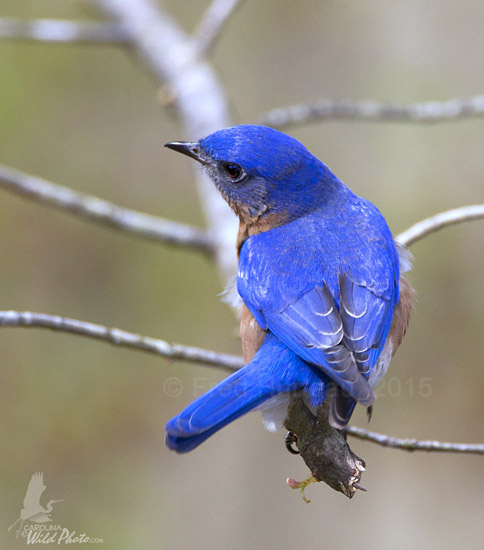 The Bluebirds found the feeder and those tasty meal worms almost immediately, and began hanging around the tree next to the feeder and birdhouse. Finally I was able to get a few photographs of these beautiful birds. For two days the female spent time gathering only pine needles from the ground around the birdhouse. Then she started gathering other bits of dried grass along with the pine needles.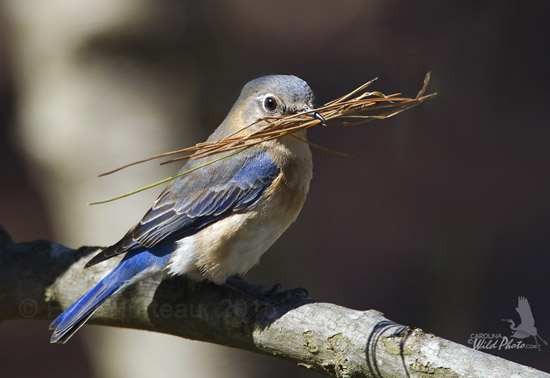 All the while the male just watched her work, which gave me ample opportunity to get some good photos of him too. Occasionally they would both take turns snacking on the meal worms that I kept in the feeder to hopefully keep them interested. So far they seem quite happy with the setup.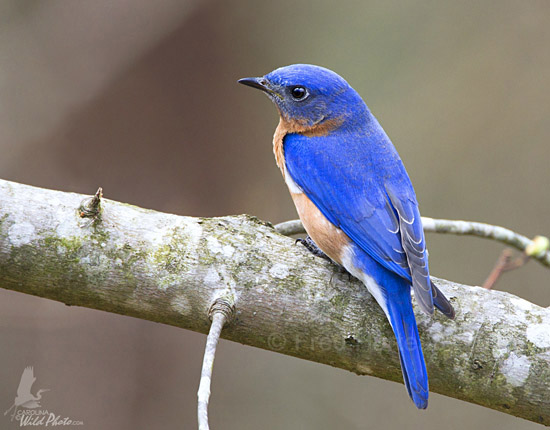 Before long I discovered the male with a big dragonfly in it's beak, and he was trying to give it to the female. He tried for several minutes to entice her with his gift, but no matter what he did, she would have nothing to do with the dragonfly. Finally he ate it himself.
Two days later I found the male had once again brought another of the exact same kind of dragonfly for his mate. And once again, no matter how much he coaxed and tried, she would have nothing at all to do with his offering. She must be a picky eater.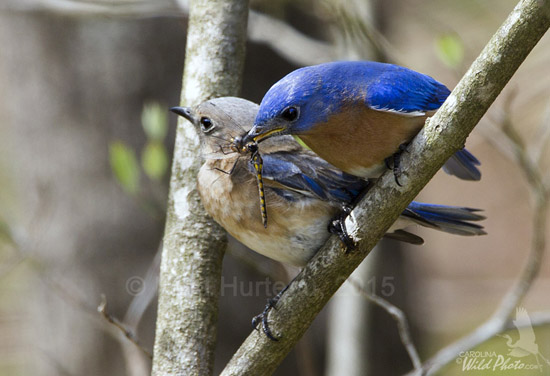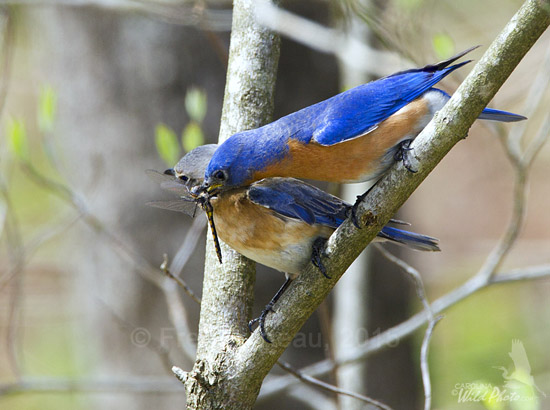 I've been very happy to have these Bluebirds in the yard this year, and even happier that I've had the chance to photograph them. Hopefully farther along in the season I'll get a chance to take some photos of little Bluebirds. We'll see.
———————~———————
:
Bluebird