by admin on Jun.05, 2014, under Locations
It's been awhile since I posted, but I have a good excuse…. I've been working my hiney off on construction projects around the house, and dealing with contractors hoping to get some remodeling done. All the while I was also looking for a used kayak trailer to haul my Native Ultimate 12 Tegris (from my previous post) on a planned trip to Beaufort in May. Finding and getting the trailer is a story in itself, but I'll just shorten it to say I did find a trailer, did finally get a title for it, and barely managed to get it ready for my trip at the very last minute. There was something of a deadline involved.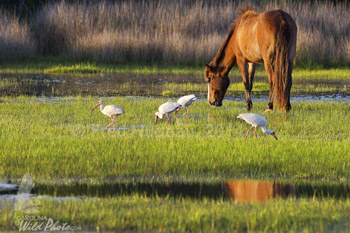 A producer with the BBC (British Broadcasting Corp.) had contacted me through my web site, NCWildHorses.com, requesting advice and information on filming the wild horses of NC for an upcoming 3-part BBC series on the Atlantic Ocean and its affect on history. He asked if we could meet while they were in Beaufort filming, and I promised to come. Besides, I really needed a break from the work, and the weather promised to be very nice for the time they were filming in late May. The only problem was I would end up there on Memorial Day weekend, not a good time to go filming or photographing in a tourist spot like Beaufort. But that's when the filming was scheduled, so off I went.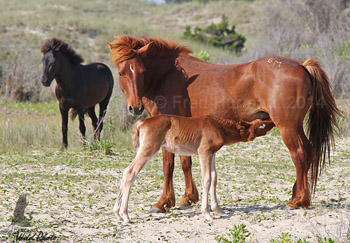 Here's where I could get derailed into multiple stories of things that went on during the trip, but I'll keep it to the photography and kayaking end of things. I arrived late on the first day so I only had time to kayak across Taylor Creek to Carrot Island and spend an hour or so doing some exploring on foot before kayaking back to the Beaufort waterfront prior to dark. The second day was a full day, which I spent with my friend Capt. Monty of Seavisions Charters out of Beaufort. He took me on his skiff, the Shoal Seeker, to scout the wild horses on the east end of Shackleford Banks. I was lucky enough to get a few great shots of horses with the Cape Lookout Lighthouse in the background, which always makes for an interesting image.  In the afternoon he took me to the west end of Shackleford where he knew of two colts I could photograph…one of which was only a few days old.
The third day's planned trip out to Shackleford was ruined by the complete incompetence and stupidity of the local office of the National Park Service, so I switched to "plan B" and drove out to Fort Macon to see what birds I could photograph there on the beach. I was rewarded with my first ever sighting of Red Knots, an endangered shorebird I had never expected to see. That in itself made the day worthwhile.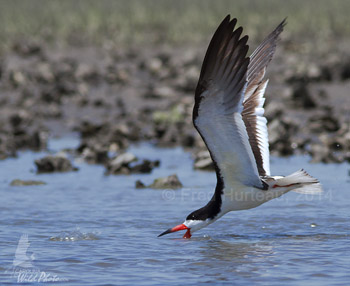 The fourth day I headed out early to kayak from Curtis Perry Park, paddling northward along Taylor Creek and into the tidal marsh at Rachel Carson reserve. I knew I'd be arriving at low tide, which meant my kayaking was restricted to the narrow channel that snaked its way into the marsh. On either side the banks were dense walls of razor sharp oyster beds a foot or more above the water line. This was my first time paddling here at a very shallow low tide, but it presented an opportunity I'd never had before.
The Black Skimmers were restricted to feeding in the same limited space I had for paddling. This put them passing close by my kayak with their unique method of feeding… flying inches above the water with their lower bill slicing through the water. Whenever their bill hits a fish it snaps shut, snagging the unsuspecting meal. This is unique in the bird world, as is the fact their lower bill is larger and longer than their upper bill. Their strange bill, very long wings, short legs and rather tiny feet make for a rather ungainly looking bird on land. But in the air they are grace in motion.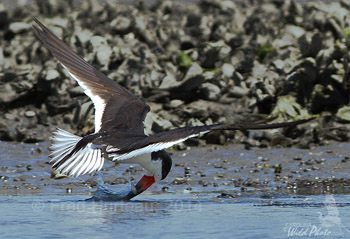 I managed to capture a couple of shots of them snagging a fish, which gives an interesting view of how they do it.
As the morning progressed the tide began coming in again. As the water level rose very slowly I was able to paddle deeper into the marsh. By noon the water was high enough I could paddle beyond the oyster beds to reach higher ground on Carrot Island where the horses were hanging out. I pulled the kayak up into the shade of some scrubby cedars and had a snack. Then I gathered up my camera gear and headed west on foot toward the horses. It seemed they were preferring the grass at the far west end of the island instead of going out into the marsh as I had expected. I figured the tide was not yet high enough to suit them, so I watched them for awhile, snapping a few shots here and there.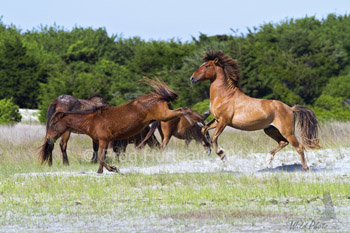 By mid afternoon they still had not wandered off into the marsh, though by then the tide level was filling pools at the westernmost end of Carrot Island. I could see to the east the oyster beds were almost completely under water where earlier they had been just about all I could see. The horses seemed content to feed on the western end, so I made myself comfortable and watched them, occasionally taking a few shots as the afternoon progressed.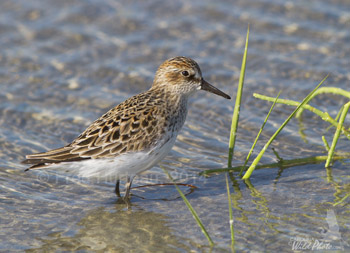 Around 3 p.m. I saw the BBC cameraman and his guide trekking through the water from Carrot Island, headed in my direction for an afternoon shoot. I watched him work while I took photos of my own as the sun slowly dropped in the sky. I had been out there so long now that the birds in the area had become accustomed to me while they hustled about feeding. I found that if I simply sat down, they would come very close, allowing me to get some good shots of even the smallest Sanderlings.
By 6 p.m. the golden light of late afternoon was making for some great photos like those at the top of this post. I spent much of my time concentrating on a fuzzy colt with one of the family groups nearby. By 7 p.m. the sun was quite low, and I decided I really should be headed back to the kayak. It was a long trek to reach the kayak, and still farther to paddle back to my put-in point. While the tide level at this point completely covered the oyster beds, it didn't mean I was home free. My real concern though was that the light would fail me and I'd be paddling in the dark.
By the time I reached the kayak I was really getting concerned. The light was failing more quickly than I expected, so I hustled to get my gear packed and get underway. All I could see ahead was water. That might have given me a false sense of security, except that I knew it only took an inch of water to make the treacherous oyster beds disappear. But an inch of water was not enough to float the kayak safely. If I was careless and ran aground with darkness falling, I could be in serious trouble. Having to get out of the kayak on a dangerously sharp oyster bed to pull myself free was a scary thought, so I concentrated with all my might on trying to find a safe channel to paddle.
I stroked that paddle like I had a shark on my tail. But I soon thought better of it. Going too fast could get me grounded without warning, so I eased off and focused hard on the water. I had learned only two days before some things about navigating these waters while talking with Capt. Monty. He taught me how the ripples on the water could well be caused by shoals just below the surface and not just an indication of wind. In this case, the oyster beds were the shoals I had to avoid. Though darkness had set in, I had enough light reflecting off the water from the evening sky that I could still differentiate the smoother, glassy water from the rippled water. Suddenly I knew where the channel was. I just had to stay in the glassy water and I would be okay, or at least I hoped so.
At times the next area of smooth water was cut off from me by rippled water, so I approached slowly, feeling ahead with my paddle as I drifted forward. Sometimes testing ahead with the paddle revealed the hidden danger, and I would push back and try another path. Luckily I managed each time to reach the next smooth water area ahead and so I paddled on, stroking hard in the narrow channel of glassy water and being very careful otherwise. Finally I could see ahead the silhouette of the channel marker for the inlet that connected to Taylor Creek, but I still had to reach it. After a long day I was already tired by the time I reached the open water of the creek, and I was still less than half way back to the boat ramp.
I still had to paddle east in the dark with no lights on a busy holiday weekend with occasional boat traffic that probably could not see me so well. I crossed the 300 yards or so to the opposite side of Taylor Creek, paddling for all I was worth. Once on the inhabited side, I could hug the shoreline of docks and tied up boats, safely out of the channel. Though pretty well exhausted by now I paddled on in the darkness. At one point I could hear the voice of someone on shore, sitting on their front porch taunting me, calling "Stroke, stroke, stroke" as I went past among the pools of light from dock lamps.
It was after 9:00 p.m. by the time I reached the boat ramp, hauled up, packed everything, loaded the kayak on the trailer and headed back to the motel. I had managed to keep my wits and fight through the fatigue to make it back, but it's not something I ever want to attempt again. Back at the motel I unloaded, took a shower, and headed out at 11:00 p.m. to find something for supper. I found a Burger King, but they had just closed at 11:00, so I kept looking. After awhile I found a McDonalds still open, so I got a hamburger, fries and a Dr. Pepper. Note to self: Never get another McDonalds hamburger. It was awful. Stick with the fries only, or just go hungry.
:BBC, Beaufort, black skimmer, kayak, oyster beds, Rachel Carson, wild horses