by admin on Mar.14, 2014, under Locations, Rants, Raves & Ramblings
One of the photographic techniques I've been wanting to improve upon is photographing birds in flight, or "BIF" as they're called by wildlife photographers. This past weekend I made another trip to Cambridge, Maryland, where I planned to concentrate on my technique with ducks (just about my favorite photo subject). I hoped to catch them one last time before they made their usual mid-March exodus to parts far north for the Spring nesting season. Once again I was blessed with sunny warmish weather, a rare freak occurrence it seems this winter, between all the frigid ice, sleet, snow and rain that has characterized the beginning of 2014.

The fact that ducks are among the fastest of birds in flight made the job even more of a challenge. The recent purchase of a Canon 400mm f/5.6 lens, coupled with my Canon 1D mkIV body, was my ace in the hole for this task. Always before I'd been using the much larger and heavier Canon 500mm f/4 lens, which is really too heavy to handhold. Its weight and mass made it difficult to react to the birds' twisting flight paths. Even with the 500mm attached to a tripod and gimbel, the task of following birds as fast and nimble as ducks was always a frustration. The lighter 400mm lens used handheld certainly proved its worth while tracking ducks as they took off and landed.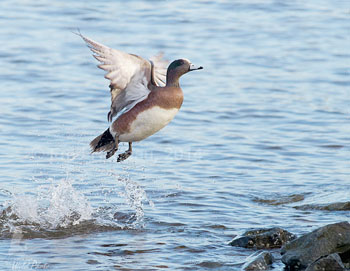 Ducks' wings are relatively short and small for their body size and weight, which means they are built like little jet fighters. They have to fly fast to stay in the air. They prefer taking off and landing into the prevailing wind, which adds lift, making it easier. Many ducks even have to get a running start to attain sufficient speed to get airborne, although some species can actually jump straight up into the air and take off with no running start, as in this image at left.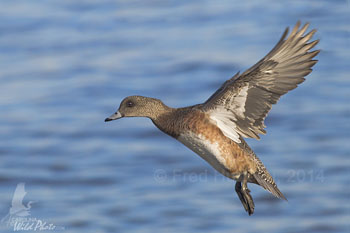 The task of getting these little jet fighters in the viewfinder, locking on the focus and following their often twisting flight path requires a lot of concentration and mental focus. Beyond that, it takes practice. Even more difficult is photographing a duck's takeoff. Learning to recognize their body language so you can tell when they are about to take off is an important part of the field craft that goes into all wildlife photography. As if shot out of a cannon, they can literally jump right out of the camera frame when they take off, even if you have them in your sights and waiting for something to happen.
I spent a day and a half on this trip, literally in "flight school", learning more about how to get better photos of these beautifully feathered and wicked fast birds in the air. Between the comings and goings of the ducks during the day I filled in the time taking photos of them bathing and preening, often with extremely comical and contorted body positions. But when the small groups of ducks were spotted coming in, it was back to school, concentrating hard on acquiring the target, focusing and following until time to rapid-fire up to a dozen frames at a time.
The trip turned out to be an excellent learning experience for me, as well as great fun.
:American Wigeon, BIF, Cambridge, Mallard, Scaup