by admin on Feb.02, 2014, under Locations
Well finally, a month into my retirement, I got my break… sorta. Actually I simply took a big chance and drove to the Outer Banks a few hours before the big snow of Jan.28-29, 2014. Snow on the Outer Banks (any snow, much less several inches) was a rarity indeed, and I didn't want to miss this opportunity. The plan was to arrive just before the snow hit so I'd be positioned to get some photos. I knew if I didn't get there before the snow, I wouldn't be able to get there at all before it started melting. I reached Nags Head and got a room just as the first of the sleet and snow began to fall on the 28th. Based on the forecast that the 29th afternoon and the 30th would be sunny, it was a good plan. Problem was…. no sunshine. Dull overcast skies prevailed the entire time, so any chance for "good" shots was all but dead. I found enough subjects to shoot, but with such poor light there was no good color or vibrancy in the images.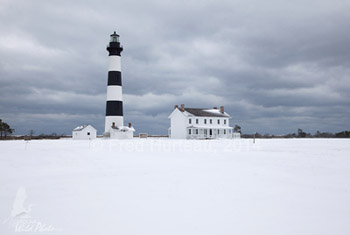 As soon as the snow quit on the 29th and I could get out on the roads, I headed straight to Bodie Island Lighthouse. I discovered, much to my surprise, that all the pine trees in the loop drive in front of the lighthouse had been cut down. There was no sign they had ever been there. This opened up the view for wide angle shots that were not possible in the past. The dark overcast made for dull images, so I had to make do as best I could.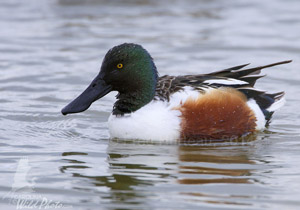 From the lighthouse I next headed down to Pea Island NWR. There was very little activity on the North Pond by the visitor center, but I found a gathering of ducks on the South Pond next to the dike separating it from the New Field Pond. I parked next to the dike, which sheltered both me and the ducks from the wind that had been gusting to 30 mph ever since the snow started the day before. There were about 300 Shovelers (like the image at right), with a spattering of Gadwals, Coots, American Widgeon and Green-winged Teal mixed in, and a lone female Hooded Merganser (in the next image below). Again, the light was less than acceptable, so once more I made do with so-so shots.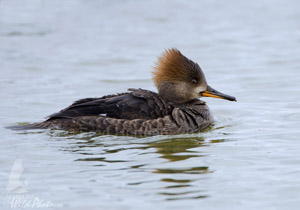 Shooting from the truck with a bean bag in the window gives a higher shooting angle than I like, but at least the ducks were tolerant of the truck after I had been there for awhile. Had I gotten out they would have flown and might not have returned at all. By staying inside the truck, they all scattered when I first pulled up, but came back in a few minutes. Since the location was right next to the highway, whenever trucks, front-end loaders and cars came whizzing by, most of the ducks would scatter and then return in 5 minutes or so. They grew more tolerant of the cars and noise as the afternoon wore on and didn't scatter as often.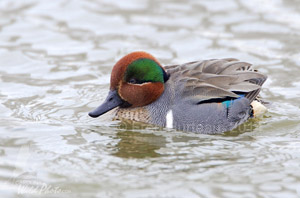 Green-winged Teal will often look like the little pudgy "rubber duckie" toys when they're swimming, like the one at right. There were four pairs (male and female) hanging around with all the Northern Shovelers. I don't often get to see Teal as close as they were at this spot. All the ducks in this location were generally no farther than 50 feet away. But they were so intent on feeding they seldom had there heads out of the water. Between the poor light and trying to catch one with its head up, it was difficult to come up with any usable images.
Hooded Mergansers are about as hard to find and photograph as the Teal, so I concentrated on this lone female while she was diving among the other ducks. This shot has a hint of sunlight on it compared to the others. The sun managed to make a fuzzy bright spot in the cloud cover for a few fleeting moments three or four times during the afternoon, and I took advantage of it for this photo.
During the afternoon I spotted some sort of hawk gliding over the impoundment and made a frantic stab at getting a shot of it. Trying to shoot birds in flight from a bean bag in a vehicle window is the worst possible way to do it. Your movement is so restricted as to make it all but impossible to shoot high and pan with a flying bird. Luckily I managed to get two frames good enough to try making an identification. My best guess is a Northern Harrier, though I am terrible at identifying hawks.
I stayed in this location a good three hours until the evening set in and the meager light became useless for bird photography. My plan was to find some supper, then return to Bodie Island Lighthouse for some night shots with the beacon on. That plan didn't work though, since there was absolutely NOTHING open in Nags Head, including anywhere to get food. I ended up driving all the way to Kill Devil Hills on snow and ice packed US 158 to find a fast food place open. By the time I got there, ate and managed to return to Nags Head it was much too late to consider the drive back south to the lighthouse. I gave it up and packed it in for the evening to download images and get ready for the next day. I would be heading to Mattamuskeet NWR in the morning to see what I could find.
Thursday morning, Jan. 30, dawned to dull overcast skies again. I packed up, checked out and headed to Mattamuskeet on ice and snow covered roads. Scant spots were partially cleared, but mostly it was snow and ice pack. The one hour drive took over two hours, but thankfully I had little competition for the road. Lanes didn't matter because you couldn't tell where they were. I found the lake completely frozen over. The only swans I could find were wandering about on the ice, looking a bit lost.
The impoundment along the main wildlife drive was mostly frozen over as well. The American Widgeon at right (and its mate) were standing on the ice looking rather forlorn. There was a huge gathering of American Coots as well, perhaps 300 in all, just wandering around on the ice and across the road. I'd never seen that many Coots in one place before. The canal on the opposite side of the main wildlife drive had some ice, but unlike everything else it was mostly open. I saw deer, a fox and then spotted what I thought at first was a Coot. Then I realized it had a brown back, and when it turned to the side there were white markings.
The word that came to mind was "gallinule", though it was a subconscious thought. I later looked this one up. I found it was a Common Moorhen, a species I'd never seen before, with a body and head much like an American Coot but with legs and huge feet like those of the Purple Gallinule or American Bittern. "Moorhen" was something I would have thought was from England or Europe, but it's actually a year-round native of the east coast. These occasional discoveries of something completely new to me and seldom seen by others is one thing that makes bird photography a fun past time for me.
:Bodie Island Lighthouse, Common Moorhen, duck, Green-winged Teal, hawk, Hooded Merganser, Mattamuskeet NWR, Nags Head, Northern Harrier, Northern Shoveler, Pea Island NWR, snow, swans